The summer holidays have begun and your kids are at home 24/7. Entertaining children is not at all an easy task. Plus, you cannot keep planning trips and itineraries to various places throughout these three months of holidays. You may not have that kind of time in hand and it isn't feasible as well. In Mumbai, there are a lot of such places where your kids will thoroughly enjoy. One such destination is the Sanjay Gandhi National Park. If you reside at Mumbai or you are visiting Mumbai, then this place should be on your to do list.
The Sanjay Gandhi National Park (formerly known as the Borivali National Park) is located at Borivali, Mumbai. This is one of the major national parks existing in a metropolis limit. Every year, this park witnesses close to 2 million visitors. The well maintained park and the rich flora and fauna are the major attractions of this place.
What to see in the Borivali national park?
The park houses a number of endangered species of flora and fauna. The forest area of the park has over 1,000 plant species, 251 species of migratory, land and water birds, 50,000 species of insects and 40 species of mammals. Additionally, the park also provides shelter to 38 species of reptiles, 9 species of amphibians, 150 species of butterflies and a large variety of fish. A complete treat to the eyes!
How can you reach the Borivali National Park?
You can very easily reach the national park. You can take a train and alight at Borivali station, which is in the western line of Mumbai. From there, you will easily get taxis or autos to the park. If you have your own vehicle or a hired one, then it is a great advantage as you can explore the place even better. Cars are allowed up to a certain point post which you will have to walk to get into the main park. But, that distance is not too much and can be easily managed by foot.
What are the ticket prices?
If you have a two wheeler with you, the parking cost will be roughly around 50 rupees. For a 4 wheeler and buses, the parking cost will be around Rs. 200 and Rs. 300 respectively. To visit the park, you need to purchase a ticket from the ticket office which is roughly around Rs. 60 for people above 12 years of age. Children from the age 5 to 12 pay around 30 rupees and children below the age of 5 are not charged for the ticket. For foreigners it is around Rs. 200.
When is the best time to visit the Borivali National Park?
The ideal time would be from September to March, as the weather in the park is cool and pleasant but, during summers, you can plan an early morning or a late evening visit to avoid the harsh sun. The park has visitors throughout the year so, there is usually never a best time as such.
What are the timings?
The park is open from 5.30 am to 6.30 pm every day except for Mondays.
What are the major attractions here?
The park has an array of activities to keep you and your family occupied for an entire day. There are lion and tiger safaris, toy train, boating, trekking, rock climbing, hand carved Buddhist caves, butterfly garden and various nature trails. The tiger and lion safaris are for 30 minutes and operate from 9 a.m to 12.30 p.m. and 1.30 p.m. until 4.30 p.m. The tiger safari cost is 70 rupees for adults and 28 rupees for children. You can also combine both these safaris at a nominal additional cost.
The Borivali National Park is a place to be visited for sure; a beautiful park, in the heart of the jungle and you and your family will surely have a tryst with nature. It will be a one of a kind experience for your children.
We visited the National Park last year during the first week of June and it was a beautiful experience. We were 3 families and the kids enjoyed to the core. We went for the Lion safari first; had got packed lunches with us so, after the safari we found a quiet spot in the forest and settled down for a lazy lunch (which was in the company of a herd of deers). After that, we strolled for a bit in the jungle and then we went to the famous Juhu Beach and gorged on the lip smacking street food. It was a splendid one day picnic.
Which are your most favorite picnic spots in Mumbai? Write to me and let me know. I might just uncover an unexplored place 🙂
Picture Credits – https://sgnp.maharashtra.gov.in
Myself, with a group of fantastic mommies are on a blog train hosted by Prisha Lalwani. I would like to thank Sweta for introducing me. You can read her blog here. It gives me pleasure to introduce my fellow mommy blogger Shruti. Head here to read her blog and you might stumble upon the answer as to why your baby gets cranky sometimes.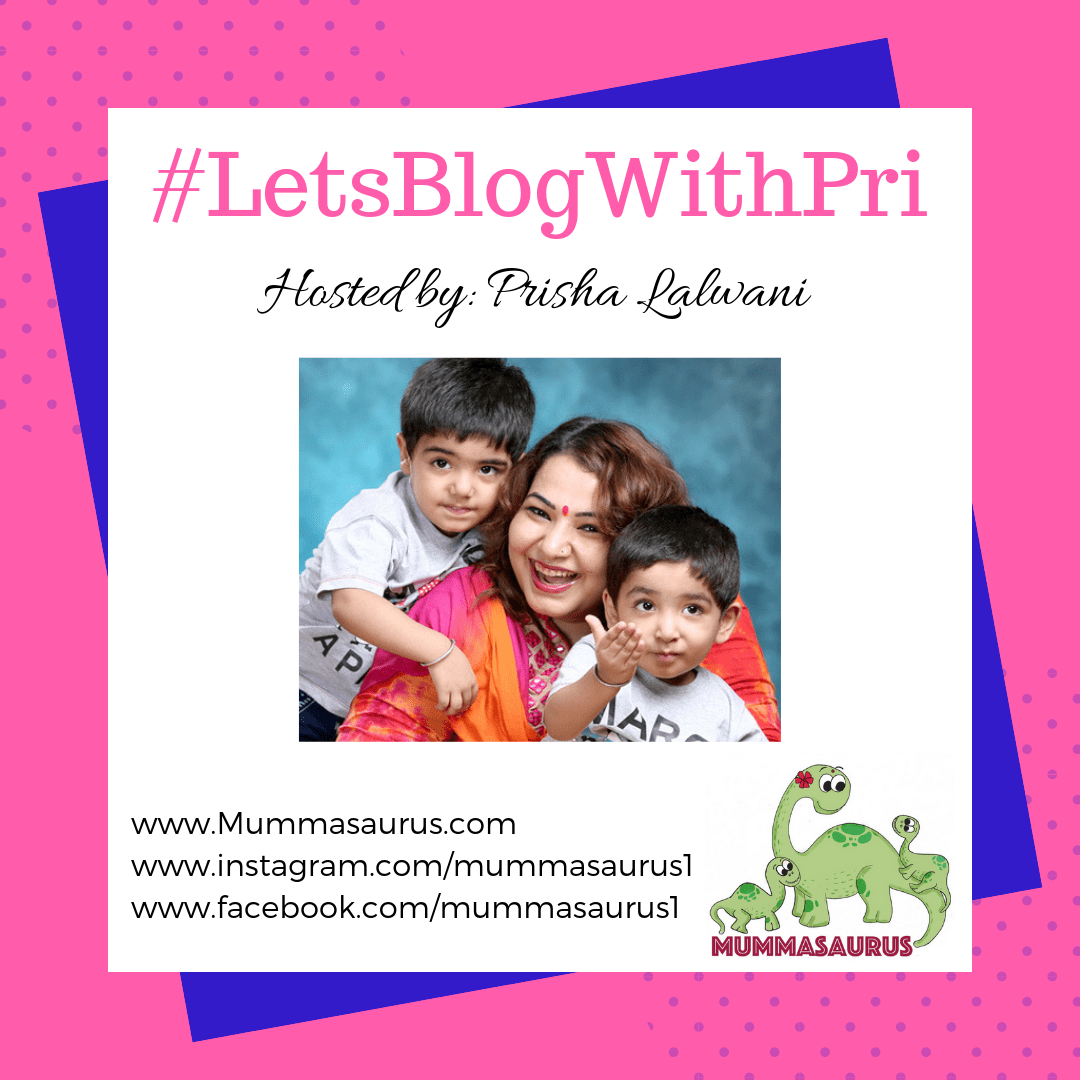 Hosted By :
Prisha Lalwani Mummasaurus.com
IG: @mummasaurus1
FB: /mummasaurus1